These in-person workshops, taking place at 14 cities across the UK, have been designed to learn about user needs to shape the design and delivery of an exciting new piece of national data infrastructure; the NERC Digital Solutions Hub.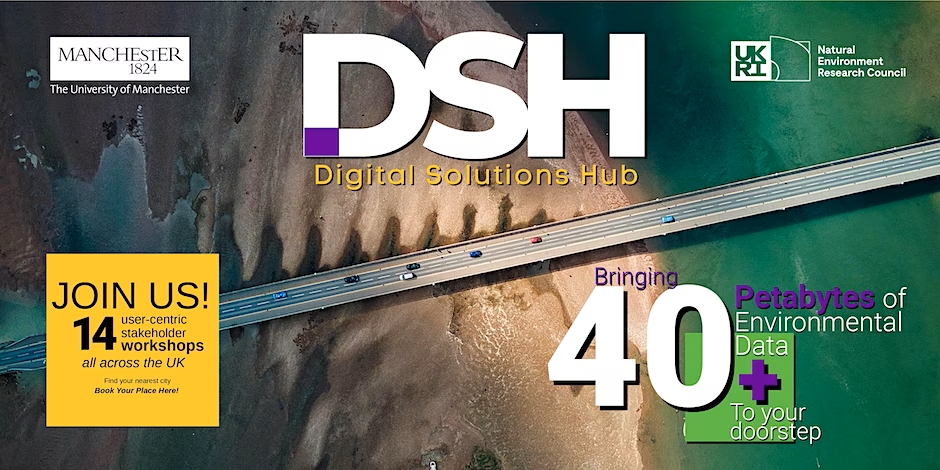 As we build the Hub a key component of its development is our user community – that means you!
The University of Manchester's NERC Digital Solutions Hub (DSH) would like to invite you to join them on a journey to build the DSH with user needs at the heart of developing this next piece of national infrastructure. NERC holds a unique and hugely significant treasure-trove of environmental data, collated over many years. By combining this with data from other sources and using it in new ways, DSH will unlock new insights to support more informed decisions, changing communities for the better.
To achieve this, DSH are organising multi-phased user engagement activities throughout 2022 and 2023, including online and in-person workshops across the UK.
Following a stage of online workshops this summer, DSH are now taking user research to 14 face-to-face workshops across the UK. They are talking to users with interest in NERC's environmental data to inform decision-making in their organisations.
You are kindly invited to join them on the workshop closest to your city or region this Nov/Dec 2022. The workshops will run from 10am to 3pm and include a free lunch! You can see a list of dates and locations below. Please find the workshop date and city most convenient for you, and register below:
Book your place here.
Please feel free to circulate this invite to key people in your circle/organisation who might be interested in these conversations. We look forward to seeing you at a workshop soon!
For more information on the work of DSH and upcoming events later this year, follow them on:
NERC Digital Solution Hub website
@NERCdsh - Twitter
NERC Digital Solution Hub - LinkedIn
Dates
| Workshop | Date | City | EventBrite sign-up |
| --- | --- | --- | --- |
| 1 | Wed, 19 Oct 2022 | Manchester | This event has now passed. |
| 2 | Wed, 2 Nov 2022 | Birmingham | This event has now passed. |
| 3 | Tue, 8 Nov 2022 | Aberdeen | This event has now passed. |
| 4 | Wed, 9 Nov 2022 | Glasgow | This event has now passed. |
| 5 | Thu, 10 Nov 2022 | Belfast | This event has now passed. |
| 6 | Wed, 16 Nov 2022 | Newtown | This event has now passed. |
| 7 | Thu, 17 Nov 2022 | Cardiff | This event has now passed. |
| 8 | Wed, 23 Nov 2022 | Leeds | This event has now passed. |
| 9 | Thu, 24 Nov 2022 | Newcastle | This event has now passed. |
| 10 | Tue, 29 Nov 2022 | Plymouth | This event has now passed. |
| 11 | Wed, 30 Nov 2022 | Bristol | This event has now passed. |
| 12 | Thu, 1 Dec 2022 | Southampton | This event has now passed. |
| 13 | Wed, 7 Dec 2022 | Norwich | This event has now passed. |
| 14 | Thu, 8 Dec 2022 | London | This event has now passed. |